Hello Beautiful Beaders,
I should be calling you BLUE-tiful Beaders if Pantone's 2020 colour of the year is anything to go by. They've finally released next year's colour of the year and it's been named as 'Classic Blue'.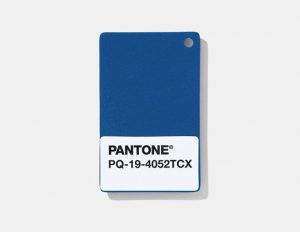 The precise colour code for Pantone's Classic Blue is 19-4052. So if you have any kind of design or photography software you should be able to find it in your colour palette on the computer. It's a strong blue, almost navy but slightly deeper and richer in my opinion.
Pantone say that it instils calmness and confidence. I think they're getting a bit political in their old age because they also state that it 'highlights our desire for a dependable and stable foundation on which to build as we cross the threshold into a new era'. Obviously! Lol
Whatever the blurb you can be sure that Classic Blue will crop up across the creative world from Beads to accent wall shades. I love bold colours used in the form of statement furniture, like velvet armchairs or sofas. Plus, imagine that gorgeous Blue colour painted on a lovely old cabinet with a waxed wooden top. Delicious!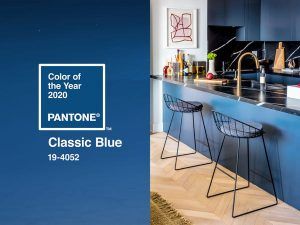 What is exciting is that brands such as Dulux and the US-based Behr paints are instead championing a shade of grassy green for 2020.
Colour of the year wars! They make a fabulous duet if you ask me.
Here at Riverside Beads we have lots of goodies to play with when it comes to the not-so-moody blues. You can find lots to choose from in our Market Deeping store or by looking online here. We search far and wide for our Beads. We always want to bring the very best and most up to date colours for our Beading beauties!
My favourite at the moment are 4mm Classic Blue pearls. I've been using them in one of the designs from the latest book I've written about Kumihimo. The Blue pearls are teamed with crystals and woven to form this stunning bracelet. To find out more just click here.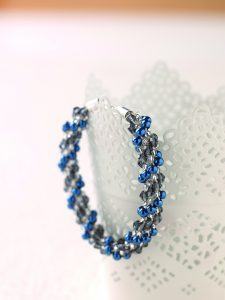 If you have a penchant for semi-precious stone Beading then you'll love these new colour trends. There's a bounty of blue-green magic out there to play with. Here's just a few of my top precious picks:-
Azurite drusy Crystal – Dark blue in colour.
Lapis lazuli – one of my favourites. The blue lapis used to be more precious than gold in ancient times.
Kyanite – Very dark blue, quite rich in colour.
Zircon – These can actually be found in very dark blue translucent colours. Quite fabulous.
Chrysocolla – A Dark greeny-blue stone, veiny and organic looking.
Spinel – More of a violet blue, so not sure if it counts – but I like it anyway!
Fluorite – Blue fluorite is very rare and very gorgeous indeed.
Tourmaline – the blue version of this is also very rare, people will be more familiar with the green type I think.
Hawk's Eye – Blue-grey/blue-green colour.
Paraiba Tourmaline – Another rare one, said to be so shiny that you can see it in the dark!
Sapphire – last but not least and probably the most famous, and most expensive, blue stone of all time.
It would be remiss of me not to mention our fabulous Large Pearl Angel bundle that we have on sale at the moment. For only £20 you get enough findings and Beads to create 30 lovely little angels, including a Classic Blue option. Truly blue-tiful and just in time for Christmas.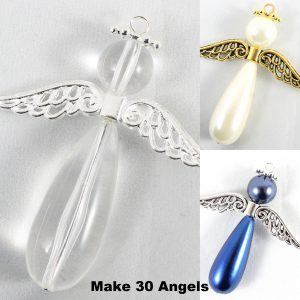 On that note I'd like to wish each and every one of you gorgeous Beaders and crafters a very Merry Christmas. If you don't do Christmas then super happy holidays instead! I hope you all get a chance to put your feet up, relax and spend some quality time in your craft rooms!
Don't have a Blue Christmas without me and until next time….Happy Beading!!
Donna Xx