Hello Beautiful Beaders,
How excited are we all for Monday? Imagine how thrilling it's going to be to see real life human beans in our lovely store again?! We have dusted down the hatches and antibacterial gelled every last inch of the shop in anticipation of your return. Plus I have an AMAZING offer for you – read on to find out more…
Our opening times will be slightly reduced in the short term; Monday to Friday you can come and see us from 10am to 3pm; Saturday's it's 10am to 5pm and on Sundays we will remain closed.
The fantastic one way system remains in place to keep everyone safe. It really does help to avoid any unexpected run-ins with fellow shoppers. There will also be a safety limit on how many people are allowed inside at one time. The good thing is that because we are a huge shop we will rarely have people waiting outside.
We will be providing hand sanitiser as you enter and exit the store and our beautiful acrylic screens offer added protection at the till point. Please note that we are still unable to open the toilets for general use.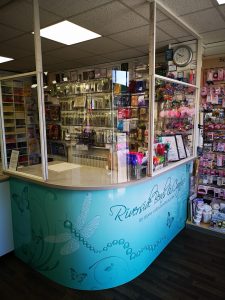 Obviously we ask that if you're not feeling well to please stay at home. You can always call the shop and place an order or go online and have a browse.
If you are bringing little children with you please use a buggy if possible. We also kindly ask you and your family not to handle products unless you intend to buy them. That way we can all help to minimise the risk even further. 🙂
Our main goal is to help you find whatever you need, so if you require assistance don't hesitate to ask. We pride ourselves on our personal service and product knowledge.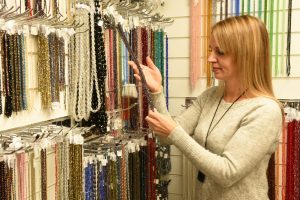 I'm going to be at the shop most days and will be very happy to help you with anything that you need. I think that now more than ever personal service is what makes High Street shopping so valuable.
Thank you so much for your loyalty to our brand throughout lockdown. It has been sad to see many good stores close down. There have been a lot of casualties and this is now the time to support your local high street like never before. Let's all help to avoid anymore lovely businesses closing. 'Use us don't lose us!' – there's a chant for 2021 if ever I heard one. ❤️ Spread the word my beautiful Beaders. Let's all be part of a positive retail revolution!
Do you remember me talking about our local town initiative #Love Deepings campaign? Well that is still going strong, encouraging people to spend with their local shops, rather than online. If every adult in the Deepings spent just £5 a week with their local shops and businesses instead of online or elsewhere, it would be worth an extra £3.3 million coming into our community – how epic is that? To find out more click here.
In other news we are about to add some more Zoom dates to our workshops page. We've been really impressed with the response to these, so thank you again for being a part of our family. The nice thing with Zoom is that you don't have to be local to join in. Every cloud….!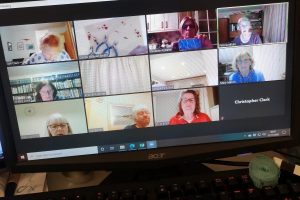 We can't plan any in-store classes for a while yet, most likely not until after the Summer. We will look at perhaps doing some more outside workshops, like those that took place in September last year. Keep your eyes on our Facebook page for further information. I'll also update on the blog for those who don't do social media (I know there are one or two still left in the world….lol).
Well that's about all from me for now. Hopefully I will see you all in person from Monday! We are only a hop and a skip away and we have all the creative essentials and much, much more.
Until next time Happy High Street Shopping! ❤️
Donna Xx